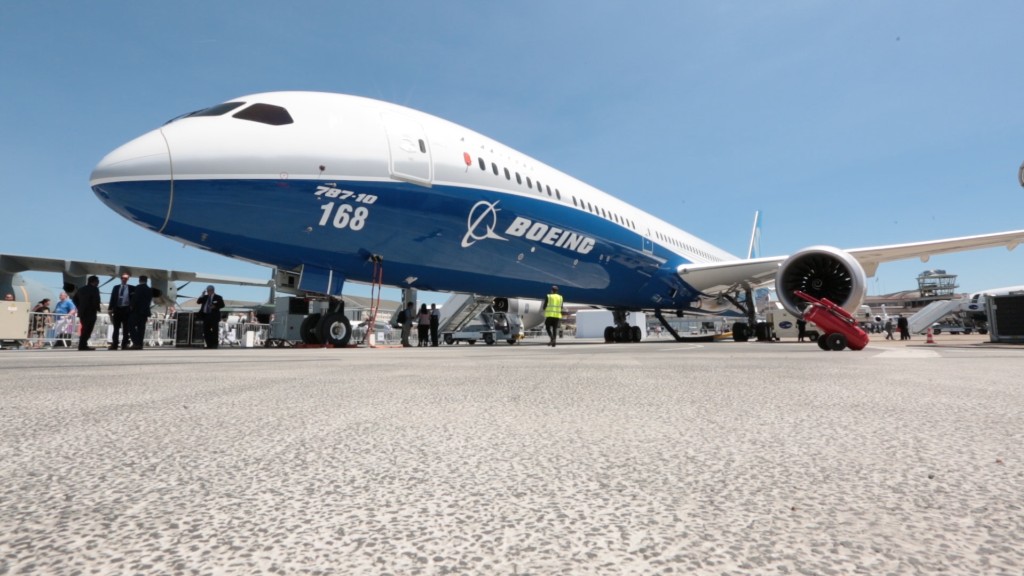 Can Singapore Airlines do luxury better than its rivals?
The Asian carrier on Thursday unveiled a new cabin design for its fleet of A380 superjumbo jets, featuring double beds, swivel chairs and personal wardrobes in first class.
The new design includes six spacious suites that boast 32-inch flat-screen TVs, vanity counters and luxury leather furnishings. In business class, couples traveling together can drop the divider between seats to create a fully-reclining double bed.
Singapore's (SINGF) new look comes as it faces fierce competition from Middle East rivals like Dubai's Emirates Airline and Abu Dhabi's Etihad Airways. The Gulf carriers' first-class offerings include on-board showers, fold-away beds and sliding privacy doors. Etihad even boasts private butlers for high-flying guests on some routes.
"Singapore Airlines is clearly attempting to reestablish its leadership position at the front of the aircraft," said Greg Waldron, managing editor of aviation industry website FlightGlobal.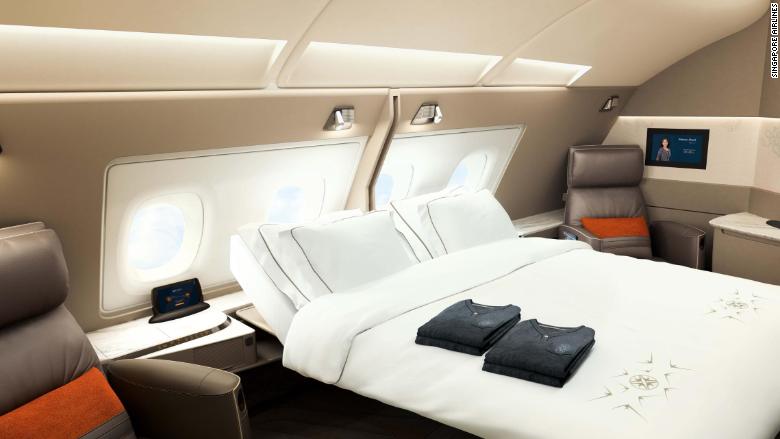 Corrine Png, an analyst at research firm Crucial Perspective, agreed, saying Singapore needed the redesign because its current offering "looks tired now" and rivals have caught up.
The airline has struggled to compete with Emirates, whose prices are generally cheaper.
Related: Crystal Luxury Air offers cruise ship experience in a Boeing
Waldron pointed out that Singapore's new design features fewer first-class suites than before and has more economy seats, which should reduce the carrier's costs per passenger.
"While suites generate publicity and headlines, the ticket price is far beyond the reach of most passengers," he said.
Png note that Singapore has also focused on lighter and thinner materials in its new cabins in an effort to cut fuel costs.
Related: This plane may vastly improve flying in the U.S.
Singapore's big unveil comes after a bumpy period.
In May, it reported a surprise quarterly loss in the face of strong competition from Gulf airlines. The prompted Singapore Airlines chief executive Goh Choon Phong to kick off a root-and-branch review of the business. The airline swung back to profit in its most recent quarter.
It's not the only Asian carrier facing turbulence. Hong Kong's Cathay Pacific (CPCAY) lost roughly $260 million in the first six months of its financial year as it tried to fend off growing pressure from mainland Chinese airlines.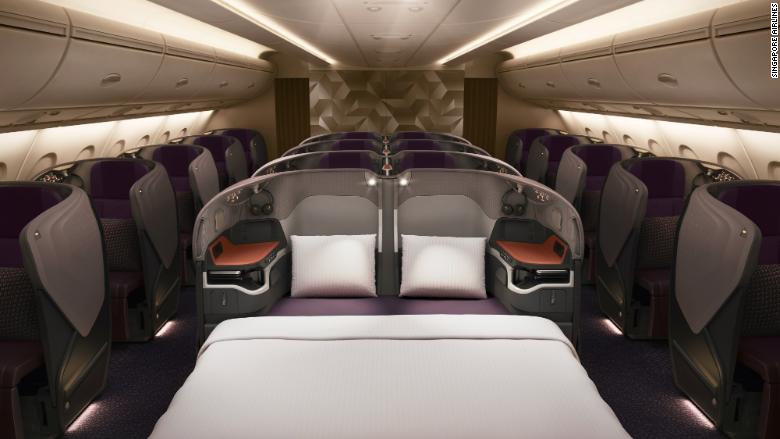 Related: China to overtake U.S. as largest air travel market
Singapore Airlines said it plans to roll out the redesign across its entire fleet of A380s. The carrier is due to receive the first of five new aircraft next month and will also retrofit the 14 A380s it already has in service by 2020.
The airline was a launch customer for the giant Airbus (EADSF) plane back in 2007.
The A380 has had a troubled history, with Airbus cutting manufacturing from 30 aircraft to 12 annually. Customers have instead generally preferred twin-engine, long-range aircraft like Airbus' A350 and rival Boeing (BA)'s 777.
CNNMoney (Hong Kong) First published November 2, 2017: 1:18 AM ET