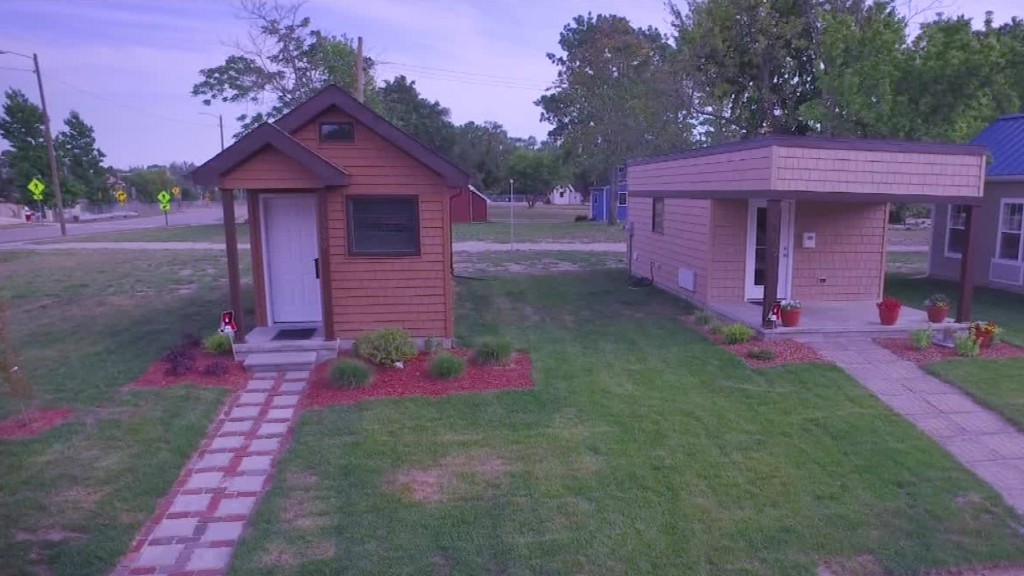 This is Detroit, not Hobbiton.
Just like the tiny homes of the hobbits in the "Lord of The Rings" series, the Cass Community Center Tiny Homes Project looks cute. But its small buildings house big hopes.
Four years ago, Detroit became the biggest American city in history to file for bankruptcy, brought down by a snowballing financial crisis that followed huge layoffs at the city's major employers General Motors (GM) and Chrysler.
Today, Detroit is in a period of economic recovery, yet many of its hardest hit residents still don't have adequate housing. The homeless population is around 2,000 and dwindling, according to city authorities. But uncertainty hangs over low-income earners, who struggle to keep up with the rising cost of living.
"Purchase prices and rents are increasing faster than people's incomes," says Earl Poleski, executive director of the Michigan State Housing Development Authority. "That's a manifestation of an improved economy but it's still a problem for us."
Related: How Detroit plans to help the city's black youth succeed
Cass Community Social Services has worked with Detroit's homeless since 2002. The organization cares for 300 people per night in its regular shelters, but what about people who have some steady income and want to move on from temporary accommodation?
"There's no place for them to go, in terms of clean, safe, affordable housing," says the Rev. Faith Fowler, Cass' executive director. "So we began thinking of how we can do it and marry affordable housing with home ownership."
Fowler's answer was to build 25 houses for less than $45,000 each by drawing on the help of construction and design professionals and volunteers from the community. Low-income earners were then invited to apply to become rent-to-own tenants of the central Detroit homes.
"So they really don't pay for the home; it's really 'rent then own' rather than 'rent to own.' They pay a dollar per square foot," Fowler said. "You can earn as little as $750 a month and be a homeowner in 7 years."
Related: 39 million households are paying more for housing than they can afford
But to keep within budget, the homes needed to be very small.
The smallest is a cozy 250 square feet, the largest just 400 square feet. Smart design has allowed each home to fit in a dishwasher, a washer-dryer, a stove and refrigerator.
The Cass Community Center provides home ownership and financial coaching to the low income-earners that it supports through the program, many of whom were previously homeless.
Related: Self-driving cars could eliminate urban crashes
The cramped conditions have not put off applicants for participation in the rent-to-own program. More than 900 low-income earners applied to take part, which also requires them to participate in community volunteer projects of their own.
For Keith, one of the first to move into a Tiny Home, the opportunity to become a homeowner was a second chance in life.
"I had gone to prison, so it's kind of hard when you come out for someone to give you a second chance of getting an apartment of your own or a house of your own," he said, declining to be identified by his full name for privacy reasons.
"I'm over 50 and this is my first opportunity to own a house," he said. "I'm ecstatic right now."
CNNMoney (Detroit) First published August 25, 2017: 6:10 AM ET