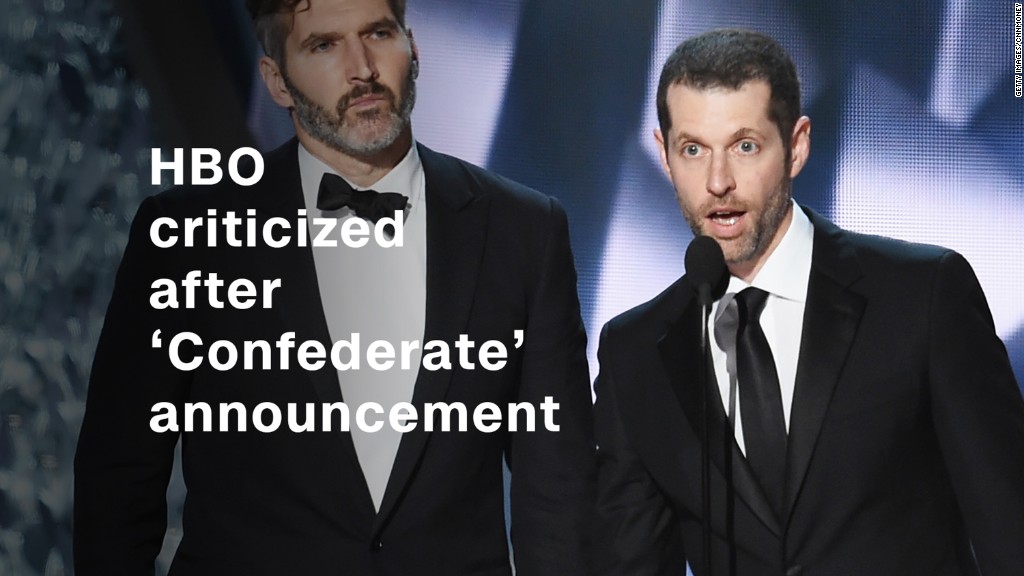 The creative team behind HBO's "Confederate" has responded to the intense backlash to their alternate-history drama.
In an interview with Vulture posted late Thursday, "Game of Thrones" showrunners David Benioff and D.B. Weiss and fellow executive producers Nichelle Tramble Spellman and Malcolm Spellman addressed concerns that were raised almost immediately after "Confederate" was announced.
The show will imagine a world in which slavery is legal in the South because the Southern states successfully seceded from the Union at the time of the Civil War.
Some critics called the premise harmful and questioned whether such a show was appropriate considering divisions that already exist in American politics. Others were irked that Benioff and Weiss, who are white, are tackling a story that rewrites black history.
As Vulture pointed out, those making the latter criticism often overlooked the fact that the Spellmans, who are black, will be Benioff and Weiss' partners in the series.
"We all knew it was coming in one form or another," Benioff said of the criticism, which he felt was "a little premature," considering the script hasn't even been written.
"We don't have an outline yet. We don't even have character names. So everything is brand new and nothing's been written," he said. "You know, we might f*** it up. But we haven't yet."
Nichelle Spellman, who along with her husband has known Benioff and Weiss about 10 years, insists the show will avoid the imagery often associated with slavery.
"Confederate" takes place in a future in which there a second Civil War was fought in the 20th century and a third is about to begin.
"There is not going to be, you know, the big 'Gone With the Wind' mansion," Nichelle Spellman said. "This is present-day, or close to present-day, and how the world would have evolved if the South had been successful seceding from the Union."
Malcolm Spellman said the series will illustrate how many of the problems that divided the country in the past are "alive and real today."
"I think people have got to stop pretending that slavery was something that happened and went away. The s*** is affecting people in the present day," he said. "And it's easy for folks to hide from it, because sometimes you're not able to map it out, especially with how insidious racism has become. But everyone knows that with Trump coming into power, a bunch of s*** that had always been there got resurfaced."
The Vulture piece notes that Malcolm Spellman had responded to some critics on Twitter. But as of Thursday night, the Spellmans had both deleted their Twitter accounts.
"Confederate" is set to go into production after "Game of Thrones" finishes its run next summer, according to HBO. (HBO is a unit of Time Warner, the parent company of CNN.)
Premise aside, Benioff and Weiss' new series was always going to spur interest because their golden touch helped catapult "Game of Thrones" to its hit status.
Weiss acknowledged that "Confederate" will require a completely different approach.
"We know that the elements in play in a show like 'Confederate' are much more raw, much more real," he said, "and people come into them much more sensitive and more invested than they do with a story about a place called Westeros, which none of them had ever heard of before they read the books or watched the show."
CNNMoney (Los Angeles) First published July 21, 2017: 8:40 AM ET