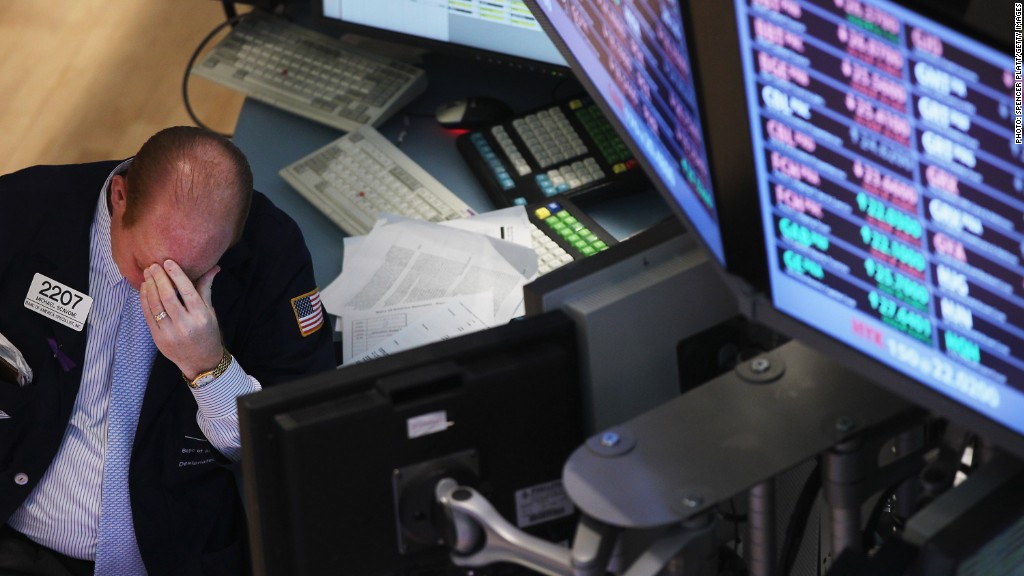 1. Brexit talks begin: On Monday, nearly a year after the U.K. voted to leave the European Union, it will begin the tricky process of hammering out the details of the divorce.
It looks like it's going to be a messy breakup. Last week's general election left Prime Minister Theresa May without a majority, and without a clear negotiation plan.
'; for (i = 0; i 4) { afterParagraphFour = true; } currentParagraph = storytext.childNodes[i]; heights += currentParagraph.clientHeight; if (heights >= limit && insertAfterThisParagraphIndex === -1) { insertAfterThisParagraphIndex = SMARTASSET.setDivIndex(i); console.log("insert after paragraph number " + i); console.log("HEIGHTS = " + heights); console.log("LIMIT = " + limit); } } /* div with id="ie_column" */ else if (storytext.childNodes[i].nodeName.toLowerCase() === 'div' && storytext.childNodes[i].id !== "undefined" && storytext.childNodes[i].id ==="ie_column") { heights = 0; limit = 80; insertAfterThisParagraphIndex = -1 } /* embeds from twitter, facebook, youtube */ else if (storytext.childNodes[i].nodeName.toLowerCase() === 'div' && storytext.childNodes[i].classList.contains('embed')) { heights = 0; limit = 80; insertAfterThisParagraphIndex = -1 } /* cnn video player */ else if (storytext.childNodes[i].nodeName.toLowerCase() === 'div' && storytext.childNodes[i].classList.contains('cnnplayer')) { heights = 0; limit = 80; insertAfterThisParagraphIndex = -1 } /* images */ else if (storytext.childNodes[i].nodeName.toLowerCase() === 'img') { heights = 0; limit = 80; } /* images stored in figure tags */ else if (storytext.childNodes[i].nodeName.toLowerCase() === 'figure') { heights = 0; limit = 80; } } if (heights >= 875 && afterParagraphFour) { storytext.childNodes[insertAfterThisParagraphIndex].insertAdjacentHTML('afterend', smartAssetDiv); smartasset = document.getElementById('smartasset-article'); smartasset.style.float = 'left'; // allows module to have text float to right smartasset.style.marginRight ='20px'; smartasset.style.marginBottom ='25px'; }
} SMARTASSET.setSmartAssetScript = function() { console.log('starting setSmartAssetScript'); SA = document.SA || []; SA.push({ embedUrl: "https://smartasset.com", container: "#smartasset-article", version: 1.1, data: { key: "bdknf2rinbhwvdksm6zbmhf3twrv4oih" } /*{ key: "CNNe038d38a57032085441e7fe7010b0" }*/ }); console.log('finished in setSmartAssetScript push() call'); var smscript = document.createElement("script"); smscript.type = "text/javascript"; smscript.async = true; smscript.src = ("https:" == document.location.protocol ? "https://" : "http://") + "smartasset.com/embed.js"; var s = document.getElementsByTagName("script")[0]; s.parentNode.insertBefore(smscript, s); console.log("finished entire function of setSmartAssetFunction()");
};
SMARTASSET.setSmartAssetDiv();
SMARTASSET.setSmartAssetScript();
May has called for a hard exit fro the EU, which would mean keeping immigrants out of the U.K., stepping away from the European bloc's trading area and refusing to pay for the separation. But that may be hard to do without political support. If she shifts gears to a "softer" Brexit, the U.K. could ease its immigration stance in exchange for maintaining business ties with Europe — as many British companies would like to do.
Though the British economy has remained stable, the situation could become worse after the exit becomes official. Germany's statistics office says it has seen a 361% spike in the number of Brits who became German citizens last year. And depending on how negotiations go, tens of thousand of U.K. jobs could be eliminated.
Related: Brexit talks start Monday. The U.K. still lacks a plan
Related: Brexit: Europe's new finance rules put 83,000 U.K. jobs at risk
2. Vermont reconsiders recreational marijuana: Last month, Vermont Governor Phil Scott rejected a bill to legalize recreational marijuana. On Wednesday, lawmakers will meet for a special session to discuss its revival.
Scott initially declined to pass the bill over concerns that penalties for stoned driving and giving marijuana to kids were too low. But generally, he's on board. There's a lot of money at stake — analysts think marijuana sales in the state could have reached $179 million by 2025 if the bill had become law in May.
If Vermont does ultimately approve the bill, it will join eight states and the District of Columbia in legalizing the drug for recreational use.
Related: Vermont governor rejects recreational pot bill
3. White House tech council meets: Back in May, President Trump created an American Technology Council to help the government "transform and modernize" its tech. That council is scheduled to meet for the first time on Monday, Bloomberg reports. Tim Cook, Jeff Bezos and others are expected to attend.
Trump sat down with a number of tech executives back in December in an effort to smooth ties with Silicon Valley, which has been especially troubled by the administration's efforts to pass a travel ban and its break with the Paris accord. For some, the overture wasn't enough. Elon Musk quit two of the president's business advisory councils because Trump withdrew from the climate deal, and embattled Uber CEO Travis Kalanick left over the president's immigration plan in February.
Related: Trump creates tech council to 'modernize' government's digital service
4. Facebook's first community summit: Facebook is holding its first-ever community summit on Thursday and Friday in Chicago. The social network described the event as a way to "celebrate these community builders" who administer Facebook Groups.
Mark Zuckerberg has touted Groups, and its administrators, as a way to build communities that can offer a coordinated response to problems like terrorism. That's an especially important battle for Facebook, which is expanding its counterterrorism efforts following attacks in the U.K.
Related: Facebook grows its counterterrorism team
5. Coming this week:
Monday – Brexit talks start
Tuesday – FedEx (FDX) earnings
Wednesday – Vermont starts recreational marijuana special session
Thursday – Barnes and Noble (BKS) earnings; Bed Bath & Beyond (BBBY) earnings
Friday – BlackBerry (BBRY, Tech30) earnings
CNNMoney (New York) First published June 18, 2017: 8:00 AM ET