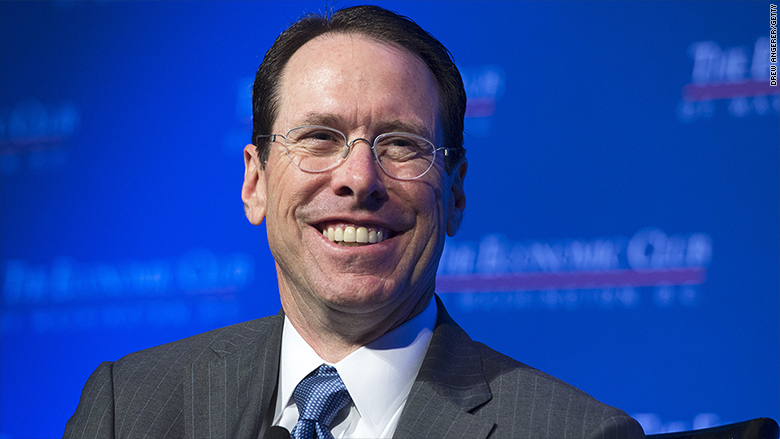 AT&T CEO Randall Stephenson is set to speak publicly on Thursday amid a deepening public dispute with the Justice Department.
Stephenson is expected to defend AT&T's pending acquisition of CNN's parent company Time Warner. He'll be on stage at the Dealbook conference in New York on Thursday afternoon.
The deal, often described as the biggest media merger of the decade, is undergoing a difficult DOJ review.
The Justice Department's concerns spilled into public view on Wednesday, two days after Stephenson had his first face-to-face meeting with newly installed DOJ antitrust chief Makan Delrahim.
At the meeting, Delrahim outlined the DOJ's argument that the acquisition would cause anticompetitive harm to consumers, according to sources on both sides. The two men discussed divestitures that might satisfy the government's concerns. By all accounts, the meeting did not go well.
Related: AT&T takeover of Time Warner hits snag with DOJ as dispute goes public
Some sources said Stephenson floated the possibility of selling CNN or other assets. Other sources said the DOJ demanded more — just not the spin-off of CNN, but the sale of the entire Turner division, which includes CNN, TNT, TBS, and other channels. Another option: selling DirecTV, the satellite broadcaster that AT&T bought two years ago.
For AT&T, those asset sales are "non-starters," as one source put it.
There are two competing narratives taking shape. One version is that the Trump administration is putting consumers first and fighting media consolidation.
The other version is that the Trump administration is holding up the deal to punish CNN for its coverage of President Trump.
Democratic lawmakers and advocacy groups have been ringing alarm bells about the potential for political interference in what's supposed to be an independent antitrust review of the deal.
Some critics of AT&T, like Senator Al Franken and the public interest group Free Press, reaffirmed their opposition to the deal while also raising concerns about possible meddling. "Any indication that this administration is using its power to weaken media organizations it doesn't like would be a profoundly disturbing development," Franken said.
At the Dealbook conference, Stephenson is likely to reiterate what he said publicly on Wednesday: "Throughout this process, I have never offered to sell CNN and have no intention of doing so."
Amid this fracas, Delrahim issued a denial on Wednesday night.
"I have never been instructed by the White House on this or any other transaction under review by the antitrust division," he said in a statement.
Deputy attorney general Rod Rosenstein briefly discussed the matter while addressing a business audience in Maryland on Thursday morning.
"We need to make sure we go about it in a serious and non-political way," he said, "to make sure we're making a responsible decision about ensuring there's appropriate competition in the market."
He said Delrahim is personally reviewing the AT&T case and "potentially there will be further review within the department."
Now AT&T and Time Warner are preparing for a possible court battle. If the two sides don't reach an agreement on acceptable conditions or asset sales, the Justice Department will sue to block the deal. If that happens, AT&T is expected to fight it in the courts.
The wireless giant had previously said that it expected the acquisition to take effect by the end of this year.
But on Wednesday morning, AT&T said the timing of the deal's closing is now "uncertain."
"We are in active discussions with the DOJ," John J. Stephens, chief financial officer for AT&T, (T, Tech30) said at a Wells Fargo conference.
Stephens reiterated confidence in the deal, saying "these types of mergers bring great benefit to customers and have very routinely been approved by the DOJ and the federal government."
CNNMoney (New York) First published November 9, 2017: 11:47 AM ET