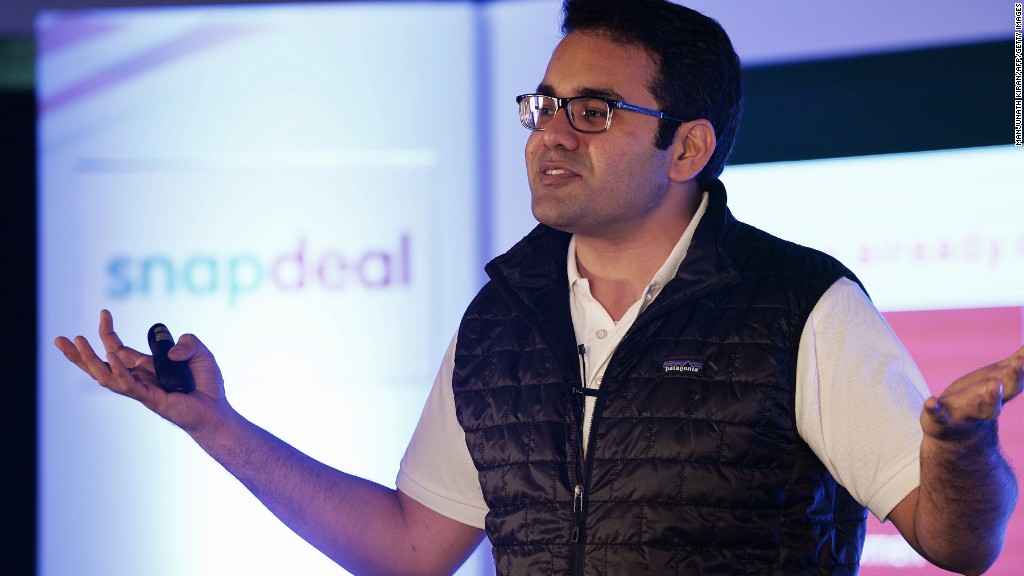 Amazon could soon be facing a much tougher opponent in one of its most important overseas markets.
Flipkart, Amazon's (AMZN, Tech30) top rival in India, is on track to complete takeovers of two big local competitors that will boost its arsenal in the battle for the country's online retail crown.
The Bangalore-based firm has moved a step closer to acquiring eBay's (EBAY) Indian business, after antitrust regulators approved a merger of the two on Thursday. EBay is swapping its India business and $500 million in cash for a stake in Flipkart.
Related: India's startup bubble has already burst
Analysts say the deal will further cement Flipkart's position at the top of India's online retail market, and give it extra firepower in its battle with Amazon, which is the country's second biggest player.
"This is good news for Flipkart as it solidifies it as a market leader at least in the short term, keeping competition especially Amazon at bay," said Sandy Shen, a research director at technology consultancy Gartner.
Amazon has pledged $5 billion towards growing its Indian business, but it continues to play catchup to Flipkart while also facing the occasional controversy.
Related: Amazon has an India problem
Another potential acquisition could widen that gap further. According to multiple reports, Flipkart is in talks to acquire Snapdeal, the third largest online retailer in India. A deal worth close to $1 billion is reportedly being brokered by Snapdeal's biggest investor, Japan's Softbank (SFTBF).
Softbank declined to comment on the reports, while Flipkart and Snapdeal did not respond to requests for comment.
Related: Indian startup founders take 100% pay cut as they slash jobs
The deal with an established global player like eBay, meanwhile, will give Flipkart some much-needed technological and market expertise, said Gartner's Shen.
"Although India's e-commerce market is still at an early stage, the market is seeing signs of consolidation," she added. "Flipkart has been and will continue to make acquisitions to increase scale."
CNNMoney (New Delhi) First published June 16, 2017: 7:57 AM ET