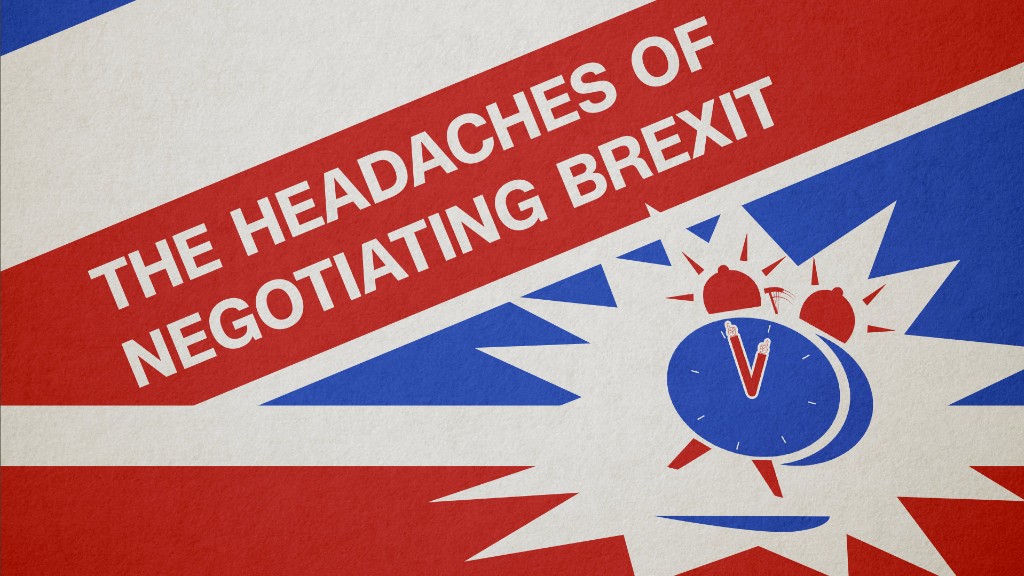 Grounded flights. Canceled vacations. Mass confusion.
The CEO of Europe's largest airline warned Wednesday that the slow pace of negotiations to pull Britain out of the European Union is setting up the aviation industry for a massive disruption.
"All we have so far from the British government is: 'We are optimistic, the great British deal will be done,' " Ryanair CEO Michael O'Leary told reporters Wednesday. "I hope you're right, but I don't share your optimism."
In order to ensure that planes can keep flying between the EU and the U.K. after Brexit, Britain needs to negotiate continued access to the EU's single aviation market. It also needs to find its place in the so-called Open Skies agreement, which for years has allowed European and U.S. airlines smooth access to airports on both sides of the Atlantic.
Related: The CNNMoney Brexit Jobs Tracker
Britain has already started divorce proceedings with the EU that will culminate with its exit in March 2019. But the EU has insisted that several key issues — including citizens rights and a financial payment — must be settled before any future trade talks can start.
The second round of talks concluded with a demand from the EU that Britain clarify its position on key issues. Top British officials have also made contradictory policy pronouncements in recent days, adding to the impression of confusion surrounding their goals for Brexit.
O'Leary, who campaigned against Brexit, warned Wednesday that airlines need clarity on the future arrangement by next fall in order to plan their flight schedules for 2019. He said that's "when the s*** will be hitting the fan all over the place."
"There is going to be a serious disruption unless the British government can negotiate an agreement by around this time next year," he warned Wednesday.
Brexit: The 5 five huge issues Britain and EU must settle
Ryanair carries more passengers than any other airline in Europe. The Irish firm specializes in short European flights and is particularly popular with British vacationers.
It previously warned that it may have to move its entire U.K. fleet out of the country if it doesn't get clarity on Brexit by next fall.
"It'll leave the great British public with the option of driving to Scotland or a ferry to Ireland for their summer 2019 holidays, which doubtless will appeal to those millions who like to go to Spain, Portugal and Greece for the cheap sunny holidays," O'Leary quipped Wednesday.
CNNMoney (London) First published August 2, 2017: 12:02 PM ET