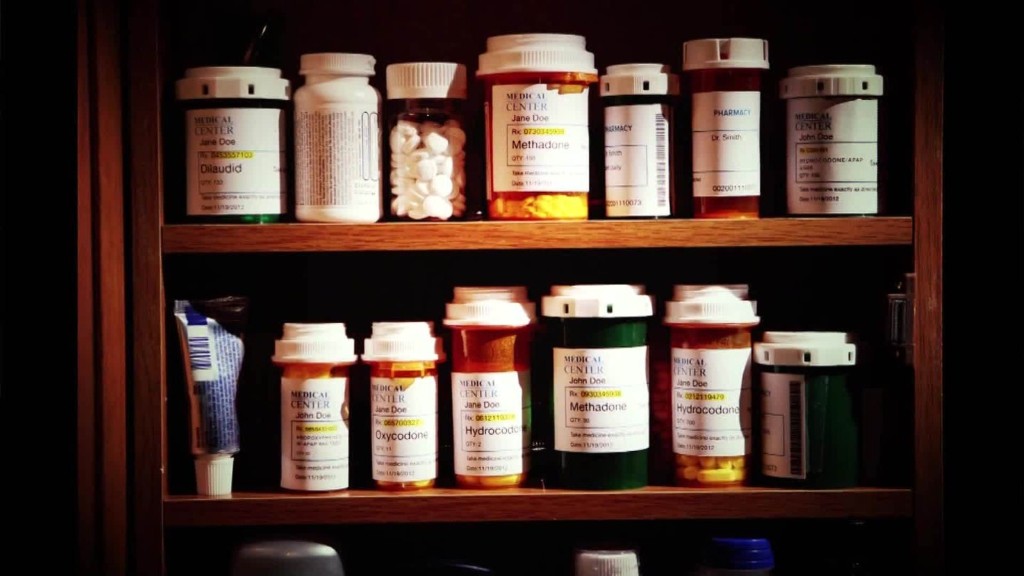 Aetna says it will try to fight the opioid crisis by waiving anti-overdose drug co-pays and limiting first-time opioid prescriptions.
Starting on January 1, the co-pay on Narcan will be waived for some customers, the health insurer said on Tuesday. Narcan is a branded version of the naloxone nasal spray which reverses the effects of an opioid overdose.
"Aetna is committed to addressing the opioid crisis through prevention, intervention and treatment," said Harold L. Paz, Aetna's chief medical officer.
Paz explained that while Narcan is available over-the-counter in most states, physicians who believe their patients to be at risk of overdosing will often prescribe the drug. By waiving the co-pay, Paz said, the insurer can reduce barriers to patients getting the treatments they need.
Related: Ohio blames drugmakers for fueling opioid crisis
Aetna (AET) said that while Narcan co-pays range between $0 and $150, most Aetna customers pay between $30 and $40 for the drug. The company also found that people who had to pay between $100.01 and $150 for Narcan were far less likely to pick up their prescription than people who had to pay between $40.01 and $50.
The waived co-pay only applies to Aetna's 4.6 million fully-insured commercial members. Those members get their health care through an employer, which in turn uses Aetna to offer, underwrite and administer health care services.
Aetna's 13.5 million self-insured customers — who also get health care through an employer, but whose employer uses Aetna for administrative services only — won't have access to the co-pay waiver (unless their employer opts into the program).
Related: The opioid crisis is draining America of workers
In addition, Aetna will cap the supply of opioids prescribed to commercial pharmacy members for acute pain, or after a surgery, to seven days. CVS (CVS) made a similar announcement in September.
To support the decision, Aetna pointed to a Centers for Disease Control and Prevention study which concluded that people who were prescribed at least one day of opioid therapy had a 6% chance of being addicted a year later — but that those prescribed eight or more days of treatment saw that figure spike to 13.5%. The cap will take effect on January 1.
The CDC says drug overdose deaths last year are expected to top 64,000 when the numbers are finalized. Most of those overdoses involved an opioid.
President Trump declared the opioid epidemic a national public health emergency in October.
Health insurers, including Aetna, have taken steps in the past to fight the epidemic. Last year, Cigna started flagging high-risk customers — those who got large amounts of opioid medicines, were on opioid medication for a long time or used different doctors to prescribe drugs — and alerting those customers' doctors. Blue Cross Blue Shield of Massachusetts started a similar program in 2012.
CNNMoney (New York) First published December 12, 2017: 6:05 PM ET